So the flight from Phoenix (well, Mesa-Gateway airport, bit of a ways away from Phoenix) was at 6:30 AM. I was late getting to the airport, about 5:45 – and they had already closed the baggage for the flight 🙁 They re-opened it just for me, yay. I got to the gate, they said to go to the last plane on the end. I was literally the last person to get there. As I walked out onto the tarmac (well, it is Phoenix, you don't really need a covered walkway… well not in the winter anyway, ha ha) and there were two planes there. As I got to the second one, I saw four more. It was the last plane on the end. So a quarter mile jog was in order. Oh well.
All of my winter clothes had been shipped to Phoenix (dumb but hey I just told them to "pack everything" and they did). I vacuum packed two winter jackets and wore a third, one that I thought was a good balance between light, and warm. My yellow jacket 🙂
There were still people filing onto the plane, so no worries. I got back to my seat – I had the window seat – and the other two were taken, ugh. Oh well, in the back of the plane, you can sit anywhere you want, yay! Hmm, very young child in front of me, around 1-1/2 to 2 years old. Hmm. The young mom apologized to me "in advance" as soon as I sat down. Oh boy.
We set out on our 3 hour flight. It was mostly uneventful… and they offer you nothing to eat, nothing to drink. Well, they gave me a bottle of water, which was nice. I occupied myself by reading on my tablet, snoozing, and listening to some podcasts.
I was sitting in the 3rd last row on the McDonnell Douglas MD80. This means that the engine was right beside my ear. I used my noise cancelling headphones, that helped to alleviate the noise. The child in the row in front made a fuss a few times, but it was no big deal.
When it was time to land, we were deep in the clouds, could not see a thing. I could feel us turn, turn, turn, but that's no surprise, I've felt that before on the approach to Grand Forks.
The captain came on and said something incomprehensible. With the engine noise, and apparently a problem with the P.A. system in our end of the plane, all I heard was "clearing snow", fuel" and "divert to Fargo". Oh boy. So we turned, climbed, broke out of the clouds, and dropped back in, landing in Fargo.
We sat on the apron (the road from runway to the airport terminal) for at least 3/4 hour, and finally they let us pull up to refuel. The engines were running the whole time, and it was quite monotonous, oh well. Wow was it windy and blustery.
Out the Window in Fargo
Refuelling took another 1/2 hour, followed by 1/2 hour of de-icing. Many folks were grumbling about getting off there, but of course they weren't allowed to. When the person behind me started to grumble, I reminded them that if they let us off, they would have to do the boarding process all over again, just to ensure that they got an accurate passenger manifest, and certainly they would not unload and reload all the luggage just to get the few folks theirs.
I was in touch with Eric by text, and he reminded me that there was a plane load of people waiting in Grand Forks to get on the plane and fly to Phoenix, so again, we were going to have to get to Grand Forks soon.
The young child was restless, threw a few tantrums, but mom and dad calmed her and all was well.
We took off from Fargo, and it was a difficult leg. I know a little bit about flying – not much – but I could tell that they were struggling. It was rough, turbulence and side to side, ugh. We broke through the clouds and descended into Grand Forks. The snow was swirling all right, and we were a-swingin' from side to side as we came down.
Here we had to sit on the tarmac for another hour because there are only two gates and a plane in each one.
The young child went ballistic. The poor mom had a tantrum, cried, and the plane was just generally crazy. Eric has since snagged Dad seemed to have some candy in his jacket pocket, and that was just enough to get us over the crisis.
Finally we got to the terminal. I went to zip up my jacket and… Oh crap, the zipper is not only damaged, the toggle is missing entirely!!! Ha ha ha! Eric had to go get the car and bring it to the front of the terminal.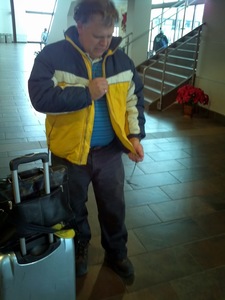 Not sure whether this jacket will get repaired, or just tossed
Eric said that the drive down in the morning was white knuckle in spots, but the drive back was fine. My 3 hour plane ride took 6-1/2 hours. Ugh. We got to Winnipeg late, and I was beat. Safe though, and that I am most certainly appreciative of.
Well, I was only back in the 'Peg for five days, but I got a good dose of winter. For the first few days, it was relatively nice, perhaps -5 to -10C. On Friday evening and through Saturday, we had a blizzard, then in the evening, the skies cleared off and we went into the deep freeze, an overnight low of -33C or something like that. Eric drove me back to Grand Forks on Sunday, and I was quite happy to hand him my winter clothes and fly back to Arizona 🙂
I visited with a bunch of people, and it was good to see everybody.
One of the things that I had to do while there, was check up on the B.U.T. (big ugly truck) that is stored out at the McRae homestead out in Warren, about 40 km or so out of town. Eric was going to do that some time in the fall, but had not made it. I was worried about the battery, most of all.
I drove out the Warren. The snow was DEEP! Good thing I brought my tall snow boots. Fern had advised me to park in her driveway, which I did, and cut across through the deep snow.
Well, sure enough, the battery was so weak that it would not crank. Sigh. While I was fussing with it, and looking for tools in it, etc., I "kinda" locked the doors and closed the driver's door. OOPS!!!! I had no spare keys with me. Mom has spare keys at her place, but I'm driving her car… Curses. Then, to make it worse, I closed the hood – and since the hood release is inside the cab, that's the end of the work on the B.U.T. for today. Curses. Now the battery will freeze, if the temperature drops much, since I drained out the last bit of juice from it, by trying to crank it over. Argh!
Worse, that key ring was the set that I had brought from Phoenix, and it has some keys for Phoenix stuff on it. Not that it's the end of the world or anything, but why would I want to have those keys hanging there until June, when I come back???
I checked on a few other things, like the shed full of stuff (looking for the battery for mom's cordless lawn mower that I have in Phoenix, for instance). Then I sheepishly went back to mom's place.
I was supposed to go back to Warren on Saturday, but per above, there was a blizzard, couldn't attempt it. On Sunday morning, it was absolutely frigid, but I dressed for the weather. I zoomed out there and parked on the road rather than bother Fern. With the spare set of keys and some tools, I got my original keys, opened the hood, pulled the battery. But now I had to trudge back about 300 ft through deep snow back to the car. By the time I had got there, I was whipped! But I was able to take the battery back to mom's and put it indoors. It wouldn't freeze at least.
It turns out that I had pulled the flatdeck trailer winch battery and put it in mom's basement already. Plus, my old '05 de Ville battery is down there – it was worth $300 and I don't think there was anything wrong with the old one – had replaced it because the repair shop told me to. So now there are three of my batteries down there. She's getting tired of running a battery storage facility. At least they are each in battery boxes, so they aren't a hazard or anything.
Since that time, Eric needed a battery for his pickup truck, so he's snagged the flatdeck trailer winch battery. Now only two in mom's basement.