Oranges
In early March, I had the first orange blossoms on my little orange tree 🙂 Other folks' trees have been blooming for several weeks, such a sweet smell… and now my tree smells nice too. Maybe this year I'll get more than one orange from it 🙂
Like last year, and the year before, there were so many blossoms on the tree, but last year I got only one orange, and the year before, only three.  After the blossom petals fall, you can see tiny fruit where the flower was – but they all disappeared, so sad.
So… just before he left, Eric helped me put a screen cover over my orange tree.  The idea is, if it's birds (and we do have a lot of birds clattering around here in the spring), then it will stop them from accosting the tree 'til the fruit gets larger, when it seems they might be safe.
It's a clunky contraption, but I hope it works.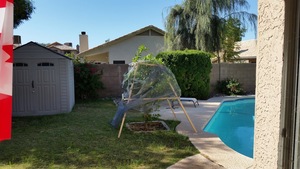 Roses
It turns out that I have two rosebushes in the backyard, along the fence.  Had I known that, I'd likely have put the shed somewhere else!  Oh well.  The one on the south wall, is beautiful pink, smells lovely, came out with at least half a dozen blossoms.  The one on the east wall, is beautiful orange, came out with only three or four,   Both were lovely while they lasted!
The red rosebush appears to have been attacked by caterpillars or bugs.  I've sprayed to prevent further damage.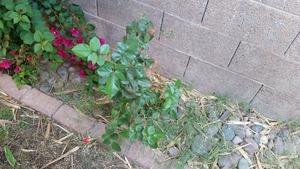 Here's an update from early April.  Again, still lovely 🙂  I will have to spray them earlier next year.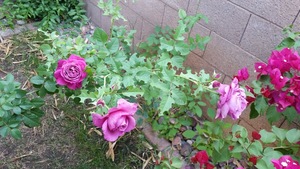 And here's from a week or so later.  They just kept coming 🙂
And a few days later.
Creeping Vines
Those who've been here know that I have a patio area covered in vines.  These vines appear to originate from my neighbours' house – their whole south side, and half the west side, is covered with them!  I shudder to think of the damage that they've done to their house's structure.  Oh well.
Anyway, these vines periodically get these big, beautiful, yellow blossoms on them, so beautiful.  Also, good hummingbird attraction as well – I've seen them a few times, but never fast enough on shutter to catch a picture.
Here's what it looked like this year.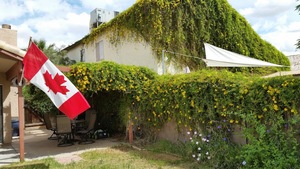 Honeybees!
One Saturday in March, my neighbour told me by text, that the bee's nest on his house would be taken down Tuesday night/Wednesday morning, in the middle of the night.  What bee's nest?  Oh the big one facing my kitchen window.  Hmm, never saw it.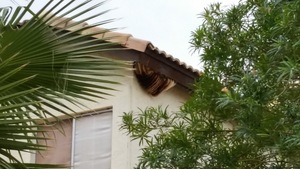 I don't know how I missed it!  It was over a metre across, it was crazy!  Constant activity around that hive.  I was wondering how I always had bees around my outside lights at night, and I'm sure that's why.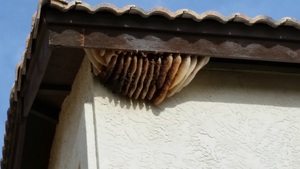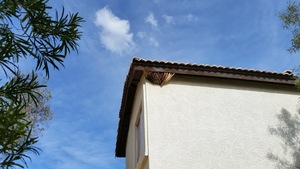 Before relocation – about a metre (3 ft) across!
Apparently, they were honeybees and not nasty bees, so they were going to a farm – being relocated.
The guys didn't show up on the appointed night, but about a week later, while falling to sleep, I heard something and looked out front.  Sure enough, a couple of white vans marked with the name of the bee keeper's farm, and saying "Bee Relocation Service", and they were readying their suits & ladders.  Now the eaves are empty.
There are still a few forlorn honeybees flying about.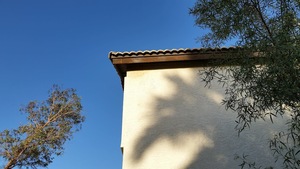 After relocation – just a few forlorn honeybees buzzing about