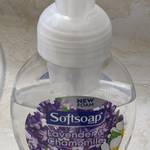 It was expensive, but I purchased a foaming soap dispenser for beside the bathroom & kitchen sinks.  I prefer foaming soap – it just feels better on your hands, it goes further than liquid soap (and has to be filled less frequently), and I believe it actually works better to clean your hands, than does liquid soap.
The challenge came when the dispenser was empty.  There (apparently) is no refill for foaming soap.  Sigh.  All you can get is liquid soap, like below.
At first, I just filled the foaming soap dispenser up with liquid soap.  That didn't work at all.
Then, I experimented with dilution of the soap with water.   It works!
Fill the foaming soap dispenser to about 20% level with liquid soap.
Fill to about 80% level with water.
Be sure to leave significant space on top - probably more than you would be inclined to do with just liquid soap! 
Slowly rotate the dispenser to gently mix the soap and water.
Dispense!